Since Israel is the metropolis of global startup ecosystem, we see a great opportunity to establish long-term relationships between CEE and Israeli women investors. Join us for a 3 days study visit to Israel in May with an aim to learn and build relations.
Agenda
April 30th, 2018 18:30-21:00
Ice-breaker drinks with GT Law
We have been invited for a cocktail meet-and-great and with a speach about foreign VC investment in the Israeli market (with a focus on technology)
---
May 1st, 2018 9:00 - 11:00
Meeting with Israeli Unicorn - Wix.com
Wix.com is a leading cloud-based development platform with millions of users worldwide. They make it easy for everyone to create a beautiful, professional web presence
---
May 1st, 2018 12:00 - 13:30
Round table over the lunch with most prominent Israeli women VCs where we would each describe our activities and interests. Suggested topic: How to grow large companies outside the US/China.
Speech about creation of FinTech in Israel + Citi Accelerator
---
May 1st, 2018 15:00 - 16:00
Speech on the role of technology investments for global impact.
Hosted by Cecile Blilious (Impact First Investments)
---
May 1st, 2018 16:00 - 19:00
Evening event and dinner with Pitango
Co-hosted by Karin Mayer Rubinstein (Israel Advanced Technology Industries)
---
May 2nd, 2018 8:30 - 11:00
Travel to the Neveq desert to Mitzpe Ramon
---
May 2nd, 2018 11:00 - 13:30
"Desert 19" Is a social business whose goal is to empower women's employment.
At our meeting we will be happy to talk about the path we went through to start a successful business with 40 happy women that are employed and with 70 satisfied customers,In a town that women has no place to work for.
---
May 2nd, 2018 13:30 - 15:00
Lunch
hosted by Hana Rado
---
May 2nd, 2018 15:00 - 16:00
Ilan Ramon Visitor Center - Dedicated to the memory of Israeli NASA astronaut Ilan Ramon
---
May 2nd, 2018 16:00 - 18:00
McCann Valley Center for Digital Marketing and New Media, part of the biggest media company in Israel. Workshop on PR strategy, how to build your business with almost no sources and make it successful.
Hosted by Hana Rado
---
May 2nd, 2018 18:00 - 21:00
Evening event with Supersonas community - social organization aimed at promoting gender balance in influential and decision-making platforms. Today SUPERSONAS embraces 1400 female professionals from Israel, NY, Chicago, London and Berlin, on website and in virtual and actual communities.
Hosted by Hana Rado
---
May 3rd, 2018 9:00 - 10:00
Visiting crowdfunding platform OurCrowd
Learn about OurCrowd's disruptive business model, the miracle of its exponential growth and hear about some of the game-changing companies it has invested in that are determined to radically change the world.
---
May 3rd, 2018 10:30 - 12:00
---
May 3rd, 2018 12:00-13:00
Lunch
---
May 3rd, 2018 13:00-14:30
Hadasit - technology transfer company of Hadassah Medical Center or Hebrew University of Jerusalem – research centre/ technology transfer
---
May 3rd, 2018 15:00-18:00
Jerusalem sight seeing with tour guide
---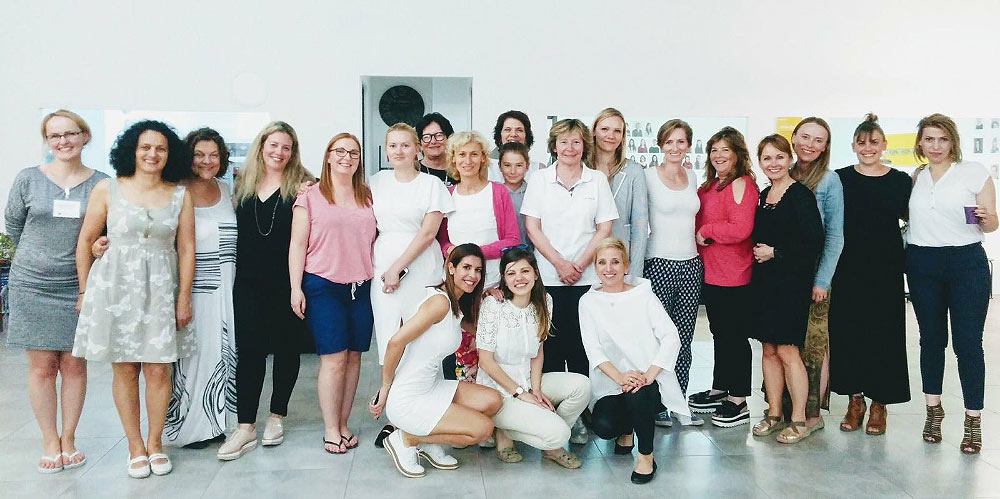 Kinga Stanislawska Experior Venture Fund Poland
Ivana Šoljan Proficio Croatia
Sille Pettai SmartCap Estonia
Zlatolina Mukova Neveq Bulgaria
Paulina Mazurek Bitspiration Booster Poland
Terezia Jarosova Neulogy Ventures Slovakia
Jenny Ruth Hrafnsdottir Crowberry Capital Iceland
Rannveig Fadum Innovasjon Norge Norway
Sandra Aile BaltCap Latvia
Eszter Szabo HunBan Hungary
Ela Obrebowska Experior Venture Fund Poland